23/5/2005
You are here:
Home
>
Travelogues
>
Nerd's Eye View
>
23/5/2005
It's a tough life (pt 2: Rockhampton, Emu Park and Great Keppel Island)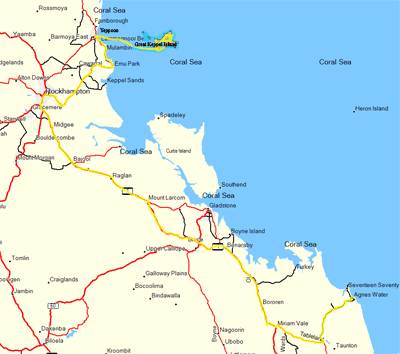 ...continued from Part 1 (well, duh)
I was starting to grow roots in Agnes, so I decided it was time to move on. I drove to Rockhampton, and ended up sleeping in the car, as I got in rather late. As a result, I was woken up by the sun fairly early, so I went for a drive and explored the town (which didn't take long).
I happened upon a strange structure in the river – the Fitzroy River Barrage. Took some arty photos, one of which is attached. It rather reminded me of something from Half Life 2, for those who know it. Thankfully, the tranquil morning was not spoiled by large striding tripod aliens with huge guns and bad attitudes. (non-nerds, just ignore and keep reading).
Rocky isn't actually that exciting though, so I moved on, to a spot called Emu Park, which is quiet and coastal basically. There is a memorial to Capatain Cook here which has tuned pipes as part of it's structure, so it sings dolefully when the wind blows.
From there I hopped over to Great Keppel Island, where I was originally going for one night. In the end I spent four days and three nights there.
Great Keppel is, basically, bloody paradise. I was lucky with the weather (it was perfect, thank you very much), but nonetheless, everywhere you looked was a postcard.
I basically spent the time snorkelling in the sun, lying in the sun, walking on largely deserted and untouched beaches, watching the sunsets (each more gorgeous than the last), and relaxing in the evening with some of the best pizza I've ever had, and a few beers.
The snorkelling is amazing there – there's no need to dive as you can just swim over reef, which is like being in an aquarium full of tropical fish.
I lost count of how many turtles I saw – including plenty that were not at all worried about me diving down and hanging out next to them. I also saw a Leopard Shark (http://tinyurl.com/9wfb5), more stingrays than I can count (including some big buggers – but I still haven't seen a Manta), and squillions of fish, big and small. And of course, nice coral.
I spent one of the four days trekking across to the far side of the island with a couple of other guys. We had a beach all to ourselves with a fantastic bit of reef (photo attached to annoy you). It was quite a mission as the island is big and hilly in places, but well worth it. The phrase "how's the serenity..." came to mind often.
Anyway, that's me pretty much up to date. I'm starting to get used to this tropical paradise nonsense, even if the east coast is one big backpacker train between Cairns and Sydney (I keep running into the same people again and again). It'll be nice to get of the beaten track a little, but for now, hell, life is pretty good.
I've also finally gotten off my bum and stuck up some content on my website. See - well, here really! Each time I send an email, it'll end up here too – with more photos to annoy you. If you'd like a full size version of any of my pics, just let me know. Carl - I shall also post the emails and pics on your site when I get a chance.
You may also have noticed that I've put Google ads on my site, in an effort to sell out and generally cheapen myself morally, whilst richening myself financially. So far it's going fantastically - I'm apparently $US2.67 richer. At this rate, within a few thousand years, I'll never have to work again.
Anyway, hope all is well back in the world. Once again, feel free to write to me.
All images in this gallery:

Fitzroy River Barrage, Rockhampton
65.58 KB

Fitzroy River Barrage, Rockhampton
74.26 KB

The Fitzroy River Barrage, Rockhampton
83.77 KB

Fitzroy River Barrage, Rockhampton
68.02 KB

Fitzroy River Barrage, Rockhampton
62.45 KB

Fitzroy River Barrage, Rockhampton
68.81 KB

Fitzroy River Barrage, Rockhampton
81.82 KB

Rockhampton
88.62 KB

Criterion Hotel, Rockhampton
79.24 KB

Old customs building, Rockhampton
110.26 KB

Valuebull, Rockhampton
80.58 KB

Commercial Hotel, Rockhampton
74.22 KB

Captain Cook Memorial, Emu Park. The wind makes it sing a doleful tune.
45.03 KB

Great Keppel Island as seen from Emu Park
45.06 KB

Yeppoon from the ferry to Great Keppel Island
57.88 KB

Sunset on Great Keppel Island
44.09 KB

Jannuka, Great Keppel Island
54.98 KB

Sunset, Great Keppel Island
37.01 KB

Couple on the beach at Sunset, Great Keppel Island
49.06 KB

The mainland from Great Keppel Island
73.44 KB

Scott
99.26 KB

Guinea Fowl and a chook
76.32 KB

Guinea Fowl
115.57 KB

Scott, Guinea Fowl and a chook
79.88 KB

Peacock
74.49 KB

Scott, Stephan and various birds
106.9 KB

Peacock
124.23 KB

Looking to the Lighthouse, Great Keppel Island
72.95 KB

Wreck Beach, Great Keppel Island
81.03 KB

Wreck Beach with fringing reef, Great Keppel Island
50.44 KB

Wreck Beach, Great Keppel Island
64.49 KB

Wreck Beach, Great Keppel Island
56.34 KB

Wreck Beach, Great Keppel Island
47.22 KB

Wreck Beach, Great Keppel Island
49.16 KB

Looking east from the western side of Great Keppel
34.45 KB

Scott and Stephan after a good day's snorkelling
90.96 KB

Sunset from the top of Great Keppel
46.54 KB

Random people
48.86 KB

The main beach, Great Keppel Island
38.43 KB

Hundreds of tiny crabs scuttling away from me on the sands of Great Keppel Island
74.1 KB

Balls of sand deposited by crabs
62.87 KB

Another beach, Great Keppel
62.34 KB

The underwater observatory near Great Keppel Island
45.39 KB

Quartz veins in the rocks
108.33 KB

Interesting tidal drainage patterns in the sand, Great Keppel Island
47.56 KB

Interesting tidal drainage patterns in the sand, Great Keppel Island
48.17 KB

Interesting tidal drainage patterns in the sand, Great Keppel Island
50.94 KB

Kookaburra
61.09 KB

A magical sunset on Great Keppel Island
31.7 KB

Bush Stone-Curlew, or Thicknee on Great Keppel Island
72.22 KB

Sunset on Great Keppel
39.94 KB

Leaving Great Keppel Island
57.45 KB

Leaving Great Keppel Island
50.16 KB

White-lipped Tree Frog, Emu Park
64.14 KB

A White-lipped Tree Frog, Emu Park
67.29 KB

Emu's Beach House
77.03 KB

Black Swan
72.11 KB

Black Swans
102.24 KB